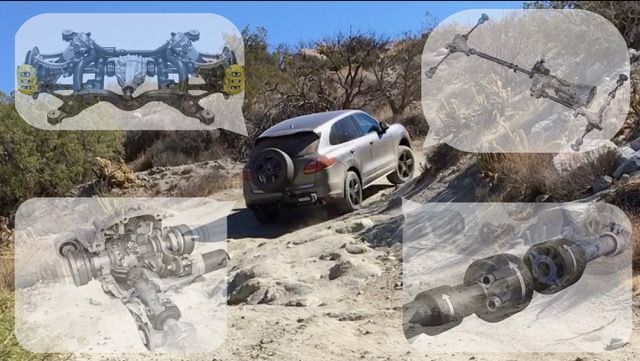 If you are interested in understanding the off-road capabilities of the Cayenne and Macan, and even experiencing them, you won't want to miss this exciting interactive session designed to familiarize you with the technologies that make these vehicles extremely competent and safe for enjoyable off-road travels.
This event's objective is to help you understand how the power transmission and chassis dynamics control systems work and how they influence the off-road abilities of these vehicles.  An educational discussion session will familiarize you with the different technologies and then you can actually experience the engineering wizardry by taking part in a constructed Cayenne obstacle driving course in the 3rd Generation New Cayenne in the parking lot of the dealership:  "Camp Cayenne" should be a fun and entertaining experience for everyone!  After experiencing the Camp obstacle course, we will end up at the Porsche of San Diego workshop to inspect different generations of the SUVs on the shop lifts to see the hardware implementation of the technologies on the vehicles themselves.  This session should be a great primer for the following week's Cayenne / Macan Off-road Adventure Tour… and if you don't already have a Cayenne to go off-road, you might want one afterwards!
Event Details:
The event is hosted by Porsche of San Diego, on Miramar Road.
10:00AM: The event begins: Welcome to Porsche of San Diego's Camp Cayenne experience!
10:30AM: The technology education session discussion will start in the large showroom.  Learn how to use your Porsche SUV tech!
11:00AM-1PM:  Experience the Cayenne off-road simulation obstacle course in the 3rd Generation New Cayenne: ride along and/or watch your friends!
The obstacle course will end at the Porsche of San Diego Workshop where underside inspection of the three Cayenne generations will be possible.
This is sure to be one exciting event!
Register Here https://msreg.com/CayenneTech