Escape is one of the "big" Porsche Club events of the year. It's often the case that Parade is on one coast or the other, and not everyone has the time or budget for a trip like that, perhaps all the way across the country. Escape provides you with another option.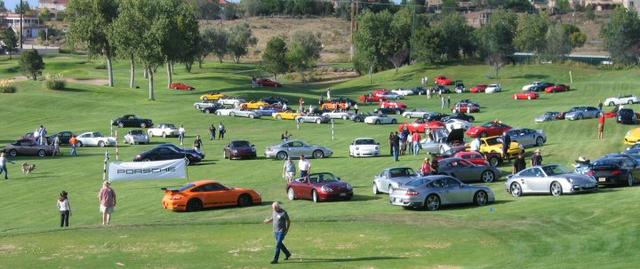 Escape, like Parade, moves around each year and is typically held on the opposite side of the country from Parade. It is a multi-event weekend, with a national attendance list. While the Parade has a competitive focus, Escape is purely non-competitive. It is a socially oriented weekend focusing on camaraderie and friendship. It is a great opportunity to show off your car, see old friends, make new ones, and enjoy the good will and fellowship of other Porsche owners. All of this without the pressure of: "Did I miss that speck of dirt?" or "Is this the fastest line through the track?" or "Was that a rally landmark?"
Typically a held over a long weekend, such as Thursday through Sunday, Escape usually consists of banquets, driving tours, drives to local area attractions and perhaps a "people's choice" car show. Other activities may include an "off road" event for our Cayenne enthusiasts. There may also be organized group lunches or free time (either day or evening) to allow you to explore area restaurants and culture on your own. Memorabilia for Escape or the local region may be available for purchase at a goodie store. The primary goals are to provide a fun venue for club members to congregate and show off the highlights of a new part of the country.