YAY! SDR autocross is back!! 
Join your autocross friends at Lake Elsinore Stadium for AX fun on Saturday October 2, 2021
Sponsored By:

–  Apex Construction     –  Autos International         –  Black Forest                               –  Design by Anastasia                        –  Elite Finish
–  La Jolla Audio              –  Makellos Classics             –  Mirage International              –  Philip Thearle's Autowerks          –  Porsche San Diego
–  Völlig Autowerks        – Western Financial            –  San Diego Tire & Wheel        –  Endeavor Group Real Estate    –  ICI
We're back and we have a new location: Lake Elsinore! Yay!
Pre-registration for the Saturday October 2, 2021

 AUTOCROSS is open until midnight, September 25.
This autocross will be held in the Lake Elsinore Storm parking lot.
The pre-registration fee is $95.
YOU MUST PRE-REGISTER IF YOU HAVE DRIVEN IN FEWER THAN 4 AUTOCROSSES WITH PCA-SDR

.
REMINDER. PLEASE READ AS THIS IS YOUR RESPONSIBILITY!! 




There is an updated tech sheet available as of January, 2021.


You must use this version Zone 8 Tech Sheet, print and present this form at tech inspection


If you are new to AX

 

and

 

have not yet classified your car

 (Mandatory to participate in the event)  click here to see how it is done.
Note: Further instruction available in pre-reg requirement section. Here is the link for the tech sheet:  https://www.zone8.org/assets/docs/SampleTechFormZ8.pdf
Porsche Club of America – San Diego Region (PCA-SDR) welcomes PCA, BMWCCA, and SCCA members to our upcoming autocross. Come on down and enjoy the fun.
PCA members with fewer than 4 autocrosses with PCA-SDR are required to Pre-Register on MotorSportReg.com. You are required to have an Instructor for your first 4 autocrosses. For more information about Autocross, check out the autocross page: https://www.pcasdr.org/competition/get-started-autocross/
Pre-Registration Closes at 11:59 PM the Saturday one week prior to the event to receive the rate of $95. If you miss the pre-registration deadline AND you have 4 or more days of Autocross experience with PCA-SDR, you can register at the trailer on the morning of the event for $125. If you miss pre-registration and you DO NOT have 4 or more days of Autocross experience with PCA-SDR, you may not register after pre-registration closes.
Cancellation of registration Deadline: Any cancellation requested after the Wednesday prior to the event at 11:59 will incur a $25 fee. Late entry fee at the trailer on the day of the event is $30.
Car Classification: Please ensure you have classified your Porsche car on the Zone 8 classification website to determine your 2021 car class. This is mandatory. If you have not classified your Porsche car on the Zone 8 classification website, your registration status will be put "On Hold" and you will not be considered as having registered for this event until you comply.
Note for X Class Cars: classification beyond X is not necessary you may download a blank form for presentation to tech inspection here.
Who may Pre-Register: To pre-register you are required to be a member of PCA, BMWCCA, or SCCA.  PCA members take precedence for registration.  To join PCA, go to www.pca.org.
PCA-SDR requires AX participants to produce a membership card and a valid Driver License at Tech Inspection. The name on the Driver License must match the name on the membership card and AX Tech form.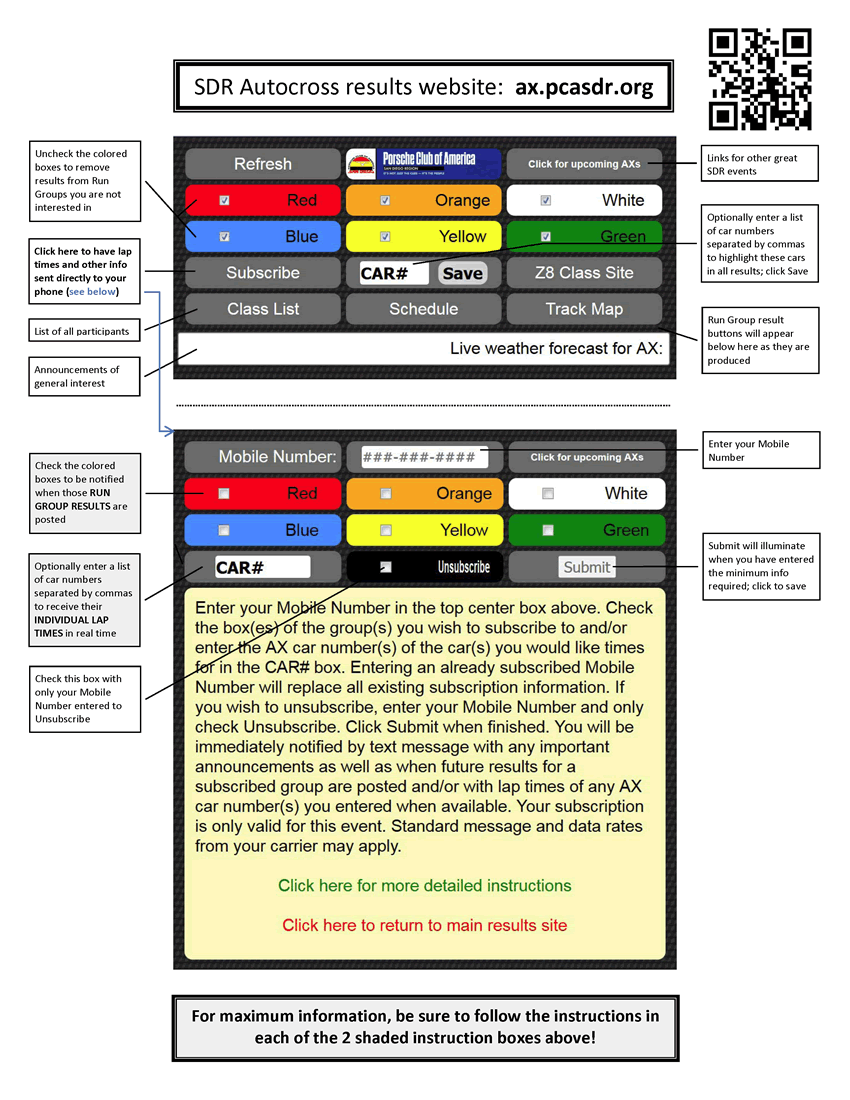 Lap time notifications:  You may now sign up for text message notification of lap times and other info with a single click when you register on MotorsportReg.  However, in order for this to work, you must be sure your mobile phone number is in the proper place in your account profile.  To check or set it, login to MotorsportReg.com, click the My Account tab, then click Edit profile, then click Edit My Information.  Be sure to enter your mobile phone number into the field marked "Mobile/Cell", even if you already have it in other fields.